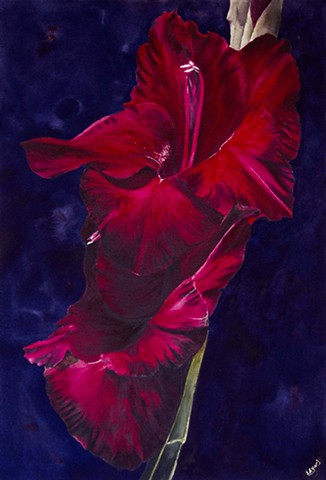 I began as a self-taught watercolor painter. Art had always occupied a prominent part in my identity…though I didn't realize that till after I had come to the States and, some 15 years later, completed my PhD in social sciences. Some of my earliest paintings and drawings traveled across the Pacific Ocean with me decades ago when I immigrated to the States. Subconsciously, I must have recognized their importance in my life.
Does my social science background have any impact on my painting? I believe so. Social science, like other sciences, requires self-analysis of one's work, to the point where self-analysis becomes habitual. However, my habit of analyzing my paintings has been a double-edged sword. While knowing my strengths and weaknesses makes sense, trying to exert too much control in watercolor can lead to frustration. So, I have been learning to "just" paint.
Decades ago, my first and only watercolor teacher encouraged me to show my paintings, but it took another decade before I seized the opportunity. Since I moved to New Mexico in 2002, my paintings have been juried into Los Alamos's Fuller Art Center several times, and I have shown work at various business establishments between Los Alamos and Santa Fe. When I was asked to serve as a juror in an exhibit, it felt like I got another degree.
Watercolor has always been my primary medium, and landscape was my sole subject for a long time. But shortly after completing my PhD, I started painting flowers, occasionally animals, Chinese sume-I, abstract, and in the last few years, fusion of landscape and flowers. Within the "fusion" style, I have taken another evolutionary step: My son suggested that I explore landscapes inside of a flower. I took his advice and have come to embrace it as something uniquely "me."
A few years ago, I began practicing writing with my left hand, something to which I thought I might have been more inclined had I been left to develop my natural self – but being left-handed is discouraged in Chinese culture. I eventually became fairly comfortable writing left-handed. Then about three years ago, a fellow artist friend had her dominant hand (her left) temporarily incapacitated by surgery – she still managed to produce beautiful work using her non-dominant right hand – and in camaraderie with her I tried to paint with my non-dominant (left) hand. Since then, I have done about a dozen left-hand paintings and have sold a few.