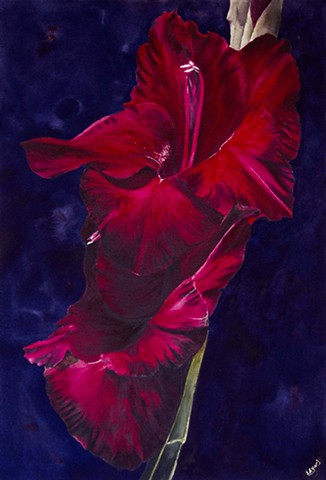 I am a self-taught watercolor painter. Art has always occupied a prominent part in my identity…though I didn't realize that till after I had come to the States and completed my PhD in social sciences. Some of my earliest paintings and drawings traveled across the Pacific Ocean with me decades ago when I immigrated to the States. Subconsciously, I must have recognized their importance in my life.
Does my social science background have any impact on my painting? I believe so. When in doubt, I read art magazines and books. I have taken night classes and workshops which have helped firm up my painting fundamentals; another fundamental element is my background in Chinese calligraphy. My habit of analyzing my paintings has been a double-edged sword. While knowing my strengths and weaknesses makes sense, trying to exert too much control in watercolor can be frustrating. So, I have been learning to "just" paint. I believe in a holistic approach to life; I use it in my research, writing, cooking, photography, gardening, skiing…and painting. Everything is connected to each other.
My latest learning lab is a local art critique group. The group members are some of the kindest and most generous people I have ever met. This supportive environment has enriched my repertoire, perspectives, and skills.
Several years ago, my watercolor teacher encouraged me to show my paintings, and still, it took another decade before I seized the opportunity. Since I moved to New Mexico, my paintings have been juried into Los Alamos's Fuller Art Center several times by now. When I was asked to serve as a juror in a recent exhibit, it felt like I got another degree.
My cultural background would have me temper my emotions, my expressions, and even my thoughts. Moderation is the norm. But I have always been rebellious and so it is probably natural that I express my watercolor painting with intensity. When I paint flowers, I want them to be up front and close. The dramatic sky – especially in the southwest – is usually what attracts me to paint landscapes. And recently, I am exploring ways to fuse these two subjects.
To see my work, please click on "Portfolio;" each image represents a "folder." Hovering above the image gives you the folder's title, and click on the image, you'll see others in that folder.